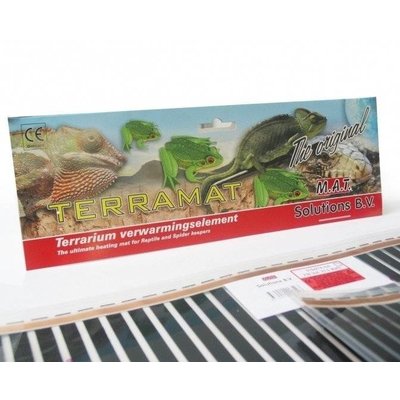 Heat mat 130-274 mm Terramat heatmat
Availability:

Out of stock
---
---
Heatmat 130-274 Terramat
The Terramat Heatmat
Terra Heat Heating mats are the perfect solution for a healthy environment for your terrarium, insectarium, ant farm or vivarium. By attaching the heating mat on or under the soil, the soil will gradually and with little consumption of energy to be heated.
This heat mat is the world's most famous and purchased. It is available in various sizes and wattages. The heat is produced by infrared and has a long wavelength.
Suitable for
- Cultivation and care of ants.
- Cultivation and care of stick insects.
- Cultivation and care Mantis.
- Cultivation and care of reptiles and insects.
Use
In principle, this heating mat can be used without a thermostat. In the event that should be set a specific temperature in some animal species, or if there is doubt about the (constant) temperature, it is wise to use a thermostat. Also, it is available with us.

The heat mat is 130 to 274 mm and is suitable for all Ant Farms with sand, plaster or acrylic. You can heat here neat part of the nest it. therefore the ants have the choice to keep a portion of the nest to a warmer and / or wetter place. The development of an ant colony can go a lot faster with a heat mat. It is not necessary but recommended.

You can also use these heat mats in a netcage or breeding cage to heat a portion (eg with the eggs to hatch). For larger culture networks (such as the professional breeding cage) increased heat mat.
Benefits and Features
- The outer wall of the mat is strong, durable and excellent UV resistance
- Well distributed heating over the entire surface
- No preheating necessary because the heating properly conducted at any temperature
- Ready-made ready for use by the molded plug
- Maximum security through isolation of the mat.
- Tested safe EN60335-1 / EN60335-2-96. Class II IPX4
- Suitable for use with various types of temperature controls such as dimmers, rod thermostats, digital clock thermostats or other controllers
- 230 volts
Various models available
Terra Heat Heat Mats:
Heatmat 100-150 mm
Heatmat 130-274 mm
Heatmat 150-390 mm
Heatmat 150-520 mm
Heatmat 258-274 mm
Heatmat 274-388 mm
Heatmat 410-600 mm
Need help? Download this pdf with instructions: