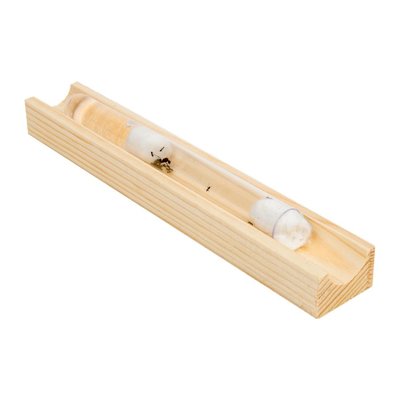 Test tube holder timber
This test tube holder makes your ants cultivation set-up just a bit more professional. ...
More information
---
---
Test tube holder
application
The aim is to connect your ant colony (in reabeerbuis) on your ant farm or arena. Now you can put it just on a table or shelf, but the keeper makes your setup just a little nicer.

In addition, it is safer for the ants (less chance of displacement and trillign). Buy two of these containers, you can even put together and fully defend the colony in this way if you do not observe the nest part.

Montage
Place the colony in the test tube in the wooden test tube holder and place the whole on a quiet place. Sheltered the colony if you do not look at this. For example, with a piece of cloth, paper, or a second container. Virtually all fit nest test tubes in the holder. On the pictures you see our standard tube and a longer version.

format
The outer size is 200: 35: 20 mm
The inner size diameter is 20 mm.