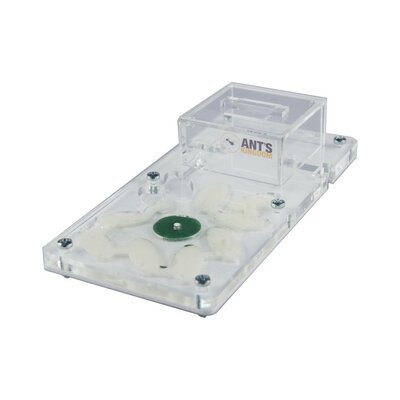 Termitetarium & Termite Colony
Start with a very fascinating hobby; keeping and breeding a termite colony in a termitarium.
This offer is a complete set, including a colony of termites: Reticulitermes grassei. ...
More information
Availability:

Out of stock
---
---
Termitarium & Termite Colony (Reticulitermes grassei)

Species
Reticulitermes grassei is a termite species.  The colony in this set has at least one or more queens. These colonies can contain soldiers and workers. The number of workers varies from 30 to 150.
There may even be winged specimens in the colony, of which the role of queen can be taken by one of these.

Suitable for
The basic nutrition for termites is cellulose, this is one of the basic components for wood. We have a specially designed acrylic stay for termites where cellulite can be created. We are adding cellulite in powdered form for free (and a manual on how to create it). In this termitarium with cellulose you can breed a beginning termite colony. There is enough space for the first few years in the nest.

These Termite species are unable to climb the acrylic material and are not affected by sight. Therefore they are easy pets to keep and easy to observe!

Packaging and shipping
On the picture you can see an example of the termitarium including cellulite. The complete set contains:
- Acrylic termitarium including arena habitat.
- 2 cotton pads to seal the nest in the arena
- pipette to keep the nest partly moist
- Cellulite powder to create cellulite and place in the nest
- 1 colony termites Reticulitermes grassei.
- Instruction manual