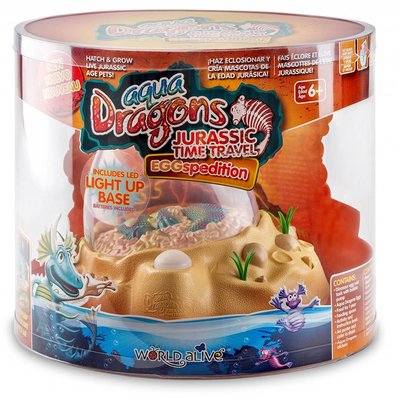 Aqua Dragons Jurassic Eggspedition -LED
The Aqua Dragons Eggspedition is the most complete breedingset including a ledlighted Dino egg aquarium to raise the Aqua dragons in. ...
More information
---
---
Aqua Dragons Jurassic Eggspedition
The Aqua dragons jurassic eggspedition includes all you need to hatch and grow your own generation of there tiny live time travelers.

Special aquatic creatures
Aqua Dragons, or their sceintific name Artemia Salina,  exist for atleast 200 million years on the earth. Paleontologists have found fossils of Aqua Dragons from around the Jura and Jurassic time periods. The've adapted to their evironment so they outlived the mass-extiction. 



Kit Contents
Eggs with a water conditioner (to make the water appropriate for the Aqua dragons) 

Feeding, enough for the first year.

a spoon to measure the food

Dino egg aquarium ; 14cmx10cm

Manual 

Eggspedition aquarium with LED lights and airsupport
2x AAA-batteries 
Stickers with Dino's an Aqua Dragons
A4 poster