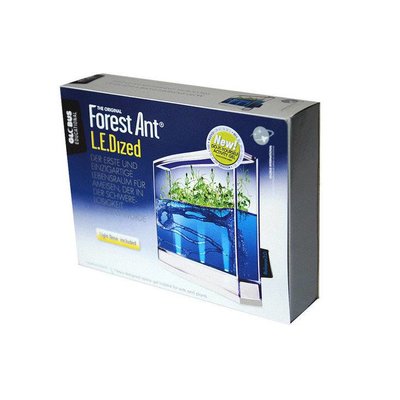 Antquarium Ledlight Forest Ant Farm
Antquarium Forest with LEDlights. Bring the world of ants and plants in the home. The gel is suitable for the ants to dig tunnels and for the seeds to germinate. ...
More information
---
---
Antquarium Ledlight Forest Ant Farm
We provide this Ant Farm including digital (download) Booklet "Ants are heroes." The printed version of the booklet can be ordered here: http://www.mierenboerderij.nl/boekje-mieren-zijn-helden.html
----- Includes LED strip and batteries -----
Ant Farm Forest
Watch ants live and tunnels dug between the roots of plants. In the gel the ants dig their courses and you can also see how plants grow. You do not water the plants and the ants do not eat. Everything they need is in the gel. This version we supply with LED lighting strip and the only one in the Netherlands, including the required battrijen.
Antquarium
A high-tech environment for ants. Based on the technique used Nasa to study live in a weightless environment. It is entirely self-supporting, the blue gel serves both as food, water and shelter. All you have to add to the container (16.5 x 15.2 x 3.2 cm), the ants themselves.
specifications
Included: The product contains one ant farm, a magnifying glass to observe the ants up close; a stick to make the first instance before the nest (very simple, making only four holes) and an instruction booklet with interesting facts about the ant. Further, a tube is added seeds for the growth of plants (seeds with the use degree in order to prevent mold !!)
Not included:
The ants, we recommend an ant family. These can order now above. Combined purchased from us with a Ant Farm and create the gel offer correctly, we guarantee that the ants will actually dig. Use distilled water to create the gel (see the instructions here).
How long live ants in the Antquarium?
Ants live between 60 days and one year. If you catch or buy, you do not know how old they are and how long they will live. On average our ants keep for several months full (sometimes we sometimes hear stories of more than one year).
How long the gel remains a source of food for the ants?
The Antquarium gel is a complete food source for the ants. Since they do not overeat (and even the gel waste dig and reused again) they can enjoy months to a year to join.
If your gel, simply start a new farm with the Ant Farm Refills. You can use ants from the garden, or large numbers (50-100) places or you buy an ant family through our website.
Need help? Download this pdf with instructions for creating the gel: