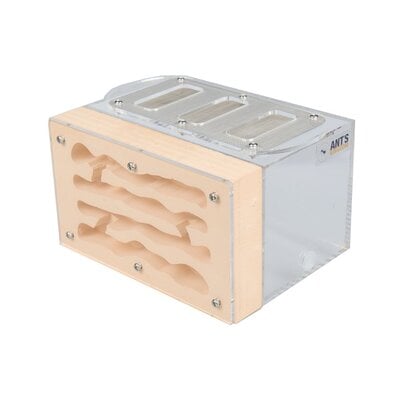 Ant Farm Premium Landscape
The unique environment to study in an ant colony. An ant farm Labyrinth construction. With a natural view of the nest of an ant colony. Suitable for virtually all types of colonies ...
More information
---
---
Ant Farm Premium Landscape

The unique environment to study in an ant colony. A high quality handmade plaster nest. At front and back tightly surrounded by 2 deluxe acrylic sheets that are securely mounted with 6 screws, so your ants escaping (see photo). The colony can be connected to as shown in the fourth picture is visible.
The arena you to your own preferences and tastes.
The farm is perfect for almost all colonies of species like Lasius, Myrmica, Formica and Messoor. There are two connection options to the arena for connecting other nests or arenas. We recommend to keep the plaster from the top humid with a pipette (supplied) using a cloth or directly in the moisture.
The set is expandable by coupling hoses and other lodgings. Because they are handmade nests, the color and the material can vary slightly by product. The photos give a clear picture.
Choice Ants Colony
An ant colony is to grow herein up to hundreds of ants. A Messor barbarus to a few hundred. This ant is a bit bigger and has different formats within the nest (minor / major). select above at the price you can offer a colony of Lasius Messor.
Feeding
The diet of a Lasius niger ant colony consists of a combination of sugar water, honeydew, and fruit flies. A feeding set is above to order. The power supply of Messor includes the seeds need this kind of as food. A set of seeds is sufficient for the first year.
Content Ant Farm
- Ant Farm Premium Landscape
- Pipette to moisten.
- When purchasing colony also a coupling and hose.
- We provide this Ant Farm including digital (download) Booklet "Ants are heroes."
The printed version of the booklet can be ordered here:
http://www.mierenboerderij.nl/boekje-mieren-zijn-helden.html
nest Specifications
Length: 15cm
Width: 9cm
Height: 9cm
Of connectivity options: two (10mm)
Type of litter: hallways / labyrtinth
Number of ants: accommodate up to 200 ants for most small species
Humidification system via pipette to top
Hunting area arena retreat included: Yes
Ventilation: through plaster and opening arena
Duration humidity nest: 1-2 weeks, depending on number of ants and the ambient temperature.
Arena Specifications
Length: 15cm
Width: 9cm
Height: 9cm
Ventilation: Yes, through lid