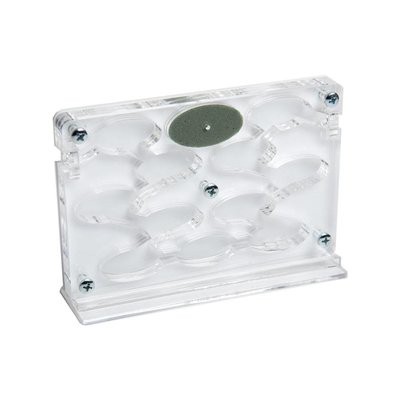 Acrylic Nest Triplex 15x10x1,5cm
This acrylic nest 15x10x1,5 cm is very versatile and suitable for almost all ant species. ...
More information
---
---
Plywood acrylic nest
This litter is very versatile because you both horizontally (supplied installation kit) and vertically, with removable base, can be used. It is even to be mounted on the wall (not supplied screws). The nest is suitable for all almost all species of ants. Not Camponotus species (too big).
On the sides are two holes of 8 mm, this allows you to connect a colony or by linking to a retreat. These nests are equipped with a foam part which holds the nest about 1 to 2 weeks moist. To moisten the litter you can make this wet foam (pipette included). It absorbs and disperses moisture without risk of flooding of rooms and corridors. The foam must remain moist so that the ants find a good setting in this litter.
The system is this unique water very practical. Even the cleaning of the complete ant farm is possible. You close out another vessel or tube nest where the ants move towards and then acrylic nest is easy to unscrew and rinse with water.
The nest is easy to expand with the opening of 8 mm on the outside. With hoses can be connected to other lodgings.
ants Colony
Virtually all ant colonies can be held in this nest. Choose above a colony at a bargain price.
Feeding
The diet of a Lasius ant colony consists of a combination of sugar water, honeydew, and fruit flies. In a Messor or Pheidole colony there are still seeds added. A feeding set is above to order.
nest Specifications
Length: 15cm
Height: 10cm
Thickness: 1.5 cm (nest part 1)
Number of connections: 2 (8mm)
Number of rooms: 11
Number of ants: Ants suitable to 1000 for most species
Placement: the product is horizontal to put down or to mount on wall
Humidification system by foam
Hunting area arena retreat included: No (or connecting)
Duration humidity nest: 1-2 weeks, depending on number of ants and the ambient temperature.
Need help? Download this pdf with instructions: